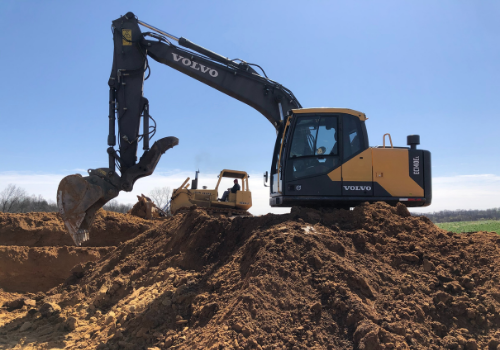 A child's idea of what they want to be when they grow up typically changes several times over the years. But not for Mike Simon, owner of Dirt Perfect, an excavation and demolition business in Derby, Southern Indiana.
"I was one of those peculiar kids in elementary school because I knew from a very young age that I wanted to be self-employed," he recalls. "Many of my family members on both sides owned their own businesses or were self-employed."
After finishing high school, Simon began working in construction and soon fell in love with the equipment side of the industry.
"Long story short, in 2008, I was working for contractor building houses when I decided to take the leap and go out on my own. I formed two companies – an excavating company and a construction company."
After more than ten years, he says it got extremely difficult to keep a good crew and the aggravation from running his two companies became overpowering. "In 2018, I decided I wasn't going to chase the dollar anymore. Instead, I would do what I enjoy doing – excavating." He scaled back, closing his construction company and focused on his excavating company.
"It was one of the best decisions I ever made. Once I stopped worrying about the money and started concentrating on doing what I enjoy doing, the stress level went down and the business progressed."
Currently, Dirt Perfect has no full-time employees. Simon says he is "truly fortunate to have a solid group of workers I can pull from when I need them. I run a very streamlined and efficient business.
"Everyone is in the same boat right now. We are all trying to find good, qualified, skilled help. I had to accept that and adjust my business model accordingly."
DEVELOPING A POWERFUL BUSINESS TOOL

Simon Concrete & Excavating – Simon C&E for short  – is the legal name of Simon's company. At the end of 2017 and the beginning of 2018, when he was winding down his construction business – Simon Harris Construction – he decided to start a YouTube channel.
The initial idea was to document his life for his kids, explains Simon. "Photos are good to have, but there is no story to go along with them. With a YouTube channel, my kids and grandkids can see the various projects we did, how we accomplished them and how everyone interacted with one another. You get a lot more out of videos than you can from still photos."
A friend of Simon, Wade "Logger" Etienne, who had a YouTube business channel for some time, told him there were benefits to had from having one. Among them, a channel can educate potential customers about what a company does, which helps build its brand. Providing valuable, engaging content can help make a company known in its industry as a go-to reference.
In addition, Simon realized he could use his company's YouTube channel to help educate others about the excavation industry. "Everybody in every part of the world does something different. No matter how good you are at what you do, you can always learn something. I wanted to contribute to helping people learn as well as learn from others to further my education in the 'dirt world.'"
After much discussion and debate, Simon and his wife, Jenna, decided to name Simon C&E's YouTube channel Dirt Perfect. He then made Dirt Perfect his company's DBA (doing business as).
"Having the channel has been a really good experience for me and I truly enjoy it."
PLANNING FOR TECHNOLOGY
Simon is slowly integrating new technology into his fleet of equipment to improve operations and productivity. That fleet, comprised of some 25 pieces of equipment, includes excavators, bulldozers, skid steers, rollers, compactors and dump trucks.
One way he keeps abreast of the latest technologies, innovations and trends affecting his industry is to attend various industry trade shows. He attended his first The Utility Expo in 2019. The Utility Expo, the largest event for utility professionals and construction contractors, features more than 800 suppliers and 30 plus acres of exhibits, equipment test drives and interactive product demonstrations.
"I was very surprised at the amount of equipment on display and the many demo areas at the event," notes Simon. "There are plenty of opportunities to do hands-on demonstrations of a broad range of equipment and learn about the latest industry products and innovations."
He was also impressed that The Utility Expo "had on display, front and center, the equipment that I use on a day-to-day basis. I could take the time to have a conversation with people in the booth and learn the ins and outs of the equipment.
"The Utility Expo is like a miniature CONEXPO/CON-AGG for our industry. Attending it has paid big dividends for my company."
One of the things Simon likes best about trade shows "is the networking, the connections you can make and the personal facetime you get to spend with company representatives. The one to one interaction is invaluable for business growth and success. It cannot be done virtually. This has to be done in person."
BUILDING AWARENESS OF THE COMPANY
Once Dirt Perfect's YouTube channel took off, there were requests for merchandise like T-shirts, hats and hoodies, Simon says. The decision was made to create an online store.
Instead of contracting out the store, his wife decided to give it a go. She has turned the online store into a thriving business.
As with its YouTube channel, the Dirt Perfect merchandise promotes greater exposure of the company, notes Simon.
RELENTLESS CONSCIENTIOUSNESS
A key driving force to Dirt Perfect's growth and success, adds Simon, is hard work and a dedication to the business, its employees and its customers. "Just put your nose to the grindstone and make it happen."
One of the things he is "very passionate" about is supporting the trades, especially at the high school level. The industry needs to get these kids involved with our industry, he says. There are a lot of good-paying jobs out there.
Simon is working with Randy Stenger of Extreme Sandbox to establish a scholarship fund for high school students who want a career in the construction and utility industries. Extreme Sandbox is a site in Minnesota where adults can have fun while learning how to operate and "play" with heavy construction equipment.
"I think we sometimes get looked down upon because we are digging in the dirt and not typing on a keyboard," says Simon. "I don't know how that stereotype got started but it certainly isn't fair.'


Subscribe to The Utility Expo monthly newsletter to receive more industry insights like this.


Read Next
Texas Utility Contractor's Growth Focused on Bringing Family Closer Together