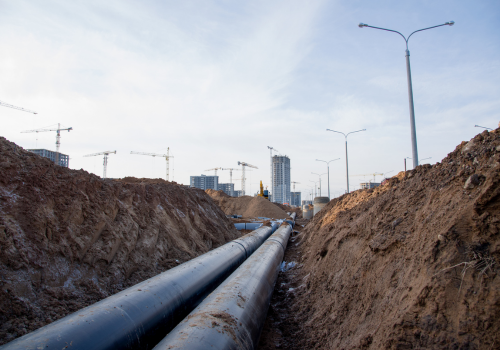 Aging water infrastructure is a challenge for water systems around the country. According to the 2021 Report Card from the American Society of Civil Engineers, there is a water main break every two minutes, and an estimated 6 billion gallons of treated water are lost each day in the U.S.
Mark Dorn, Regional Sales and Support Manager for TT Technologies, a trenchless equipment manufacturer, says the primary reasons for water main failure are corrosion and age. "In the winter you will see ruptures and bursts, says Dorn. In addition, pinhole leaks waste a tremendous amount of water. This is an increasingly important issue when you consider that many regions in the U.S. are facing water scarcity. "The other main reason we need water main replacement is for increased volume and capacity, due to more people and businesses."
Investing in Pipe Rehabilitation
St. Paul Regional Water Services (SPRWS) is working to get ahead of the problem with a plan to rehabilitate aging water mains within the 1,185-mile system that serves a population of 450,000 customers in ten cities located on the east side of the Twin Cities. About 28% of its water mains are more than 100 years old. The water main break rate is 11 water main breaks per 100 miles, which is considerably better than the US & Canada (14) and for its region (16), per Water Main Break Rates in the USA and Canada: A Comprehensive Study, 2018, Utah State University.  
"At this time, we are investing about $12 million in capital water main improvements each year," says Todd Blomstrom, PE, Distribution Division Manager for St. Paul Regional Water Services. That will enable the rehabilitation of approximately 7 miles of water main in 2023. "Our goal is to increase that to 10 miles a year," says Blomstrom. In addition, the utility is in the process of an aggressive plan to replace more than 25,000 lead service lines. Their fleet is comprised of 300 units ranging from passenger vehicles and trucks to heavy construction equipment.
Cost-Saving Pipe Rehabilitation Strategies
Blomstrom uses several strategies to plan pipe rehabilitation and prioritize work. A risk model evaluates which sections of pipe have the highest probability of failure and takes into account the consequences of a failure. They also look for opportunities to coordinate water main pipe replacements with roadwork.
One of the ways the utility is stretching its dollars is by self-performing about 30-50% of the work. "We don't attempt to do all things, says Blomstrom. "We concentrate on the water main projects we are most experienced and efficient at performing." Those include cement mortar lining for older cast iron water mains, pipe bursting, directional drilling, and open-cut pipe replacement.
According to Blomstrom, a driving factor when deciding what method of pipe rehabilitation to use is overall cost. One of the most common methods is open-cut excavation where a trench is fully excavated to install the replacement pipes. Depending on whether or not streets and sidewalks need to be dug up, or if the work can be done in coordination with a road project, will determine if this is a cost-effective method. "Every method has advantages and disadvantages," says Blomstrom, "but we have been using more trenchless technology to replace water mains over the past 15 years. "
Trenchless technologies, which were first introduced in the 1980s, tend to cost less than open-cut methods because you don't have all the restoration costs. "There is a 25-30% cost savings with trenchless method vs. open cut method," says Dorn.
Trenchless technologies include several methods such as cured-in-place piping and pipe bursting. The process of CIPP involves inserting and running a felt lining into a preexisting pipe that needs repair. The resin within the liner is then exposed to a curing element to make it attach to the inner walls of the pipe. Once fully cured, the lining acts as a new pipeline.
Dorn says pipe bursting is gaining popularity in certain regions of the country. Two pits are dug 400-600 feet apart and equipment is used to split the existing pipe and pull in a new pipe. "You get a brand-new pipe in the ground without having to tear up streets and sidewalks," says Dorn. "And you can upside the pipe diameter if needed."
Pipe bursting works for many applications but according to Dorn, it's not suitable in areas with solid rock.
SPRWS began using pipe bursting in 2014 with a few pilot projects to determine cost and efficiency. In 2022 they began to self-perform pipe bursting work, first renting and then purchasing equipment.
"Pipe bursting has proven to be a very viable option for us to replace the cast iron water main," says Blomstrom. One of the keys for SPRWA was renting equipment that came with good support and training. "The vendor's technicians trained our staff on how to operate the equipment, and they stayed in touch to ensure we were successful," says Blomstrom.
When taking on a new pipe rehabilitation method, Blomstrom advises utilities to start small. "A utility can first verify that alternative methods are cost-effective and successful, then continue to expand a program," he says. Working with supportive vendors can also provide you with the expertise needed to master a new method. SPRWS's success is proof that implanting new strategies for pipe rehabilitation can help utilities get more done with less cost and less disruption.
Read Next
The Importance of Trenchless Technology for Pipe Rehabilitation
Pipeline Rehabilitation: Choosing The Right Method For Your Next Project