Aerial equipment is essential for numerous applications from installing and maintaining electrical lines and towers to inspecting and maintaining wind turbines and other infrastructure at height.
Manufacturers are redesigning key models in order to better serve the market. New design features include decreased chassis size, safety, convenience, decreased cost of ownership, and electrification.
Big reach, small chassis
The Dur-A-Lift DCP-29 aerial lift cable placer, for example, is designed for greater convenience and lower cost.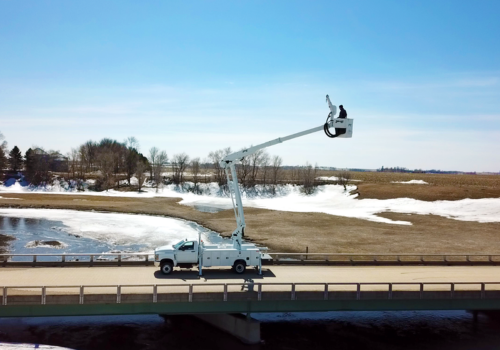 "Convenience factors include the ability to operate in mobile mode, which allows telecoms to place cable while on the move. Also, with this smaller model there is no knuckle boom, which hangs over the cab and when the operator extends a knuckle boom, it can interfere with traffic, so the absence of one allows greater freedom of truck placement," says Rod Bergstrom, Regional Sales Manager for Dur-A-Lift.
The DCP-29—with a working height of 34 feet—is attached to a Class 3 chassis; the next size up, the DCP-36, is attached to a Class 5 — with working heights up to 41 feet.
Dur-A-Lift's new DTX-34 telescopic bucket truck is also designed to offer the low-cost and maneuverability of a small chassis unit while providing the power and reach of a larger chassis unit. "This compact, Class 3 bucket truck can reach up to 39 feet. It also features a bottom mount basket, making it a great choice in places with overhead obstacles," said Bergstrom.
The new Elliott V63's highest reach on a 19,000-pound GVWR (gross vehicle weight rating) chassis is another example of high reach combined with smaller chassis. The unit, which is well-suited for construction, maintenance, and inspection, features a by-60-inch work platform to accommodate more equipment or more working movement at height.
The new Versalift VST-40-HDSI is also built on a lighter chassis, which decreases capital costs and avoids the need for a CDL (commercial driver's license). It too is designed for greater capacities in a smaller package. The VST-40-HDSI provides 700 pounds of material handling capacity in any boom position across the entire working envelope and 1,000 pounds capacity at elevated angles. Larger boom cylinders, a larger rotation bearing, two sets of A-frame outriggers, and a full length subframe support the augmented material handling capability.
High reach, big savings
"We are excited to showcase Dur-A-Lift's DPM2-52 at the upcoming Utility Expo," says Bergstrom. "This 22,000 GVWR bucket truck can reach up to 59 feet and has been a new favorite in the Dur-A-Lift lineup. On medium-duty chassis by manufacturers such as Ford, Chevrolet, and International, we're able to provide this build that has exceptional reach at a competitive price. And since a CDL isn't required, these units can help relieve some labor and training pressure."
A smarter bucket truck design on the Versalift VST-52-MHI increases its capability; the unit provides an industry-leading payload of 3,750 pounds. This allows project managers to replace a 55-foot overcenter material handler with it. According Versalift: "In the case of a three-truck line crew consisting of one digger derrick and two 55-foot material handling bucket trucks, replacing the equipment would represent about $70,000 in savings per crew."
The Altec AC65E-155S, on the other hand, isn't designed for working in tight spaces—the unit features a class-leading, 65-ton maximum-lift capacity and it can reach a platform working height of 220 feet (when configured as an aerial device). The convenience of being able to operate it both as a hoist and as a MEWP (mobile equipment working platform), is not only an industry-first, but can decrease the amount of equipment needed on site. Another convenience factor is its ability to easily be configured to comply with federal bridge laws, so permits aren't needed to travel.
The Bronto S341HLA aerial platform features wireless remote control for boom movements. This increases convenience and safety. With a maximum working height of 341 feet, the S341HLA is the tallest truck-mounted aerial platform in North America, and it's well-suited to high-rise construction and maintenance worksites, such as wind turbines.
Versalift provides two unique safety features on their VST-52-MHI—Electroguard and TruGuard. These two insulation systems combine to offer complete dielectric isolation at any height and position and the safest telescopic insulated aerial units on the market, claims the company.
Electric options
Since utility trucks idle a lot, they're a great candidate for electrification.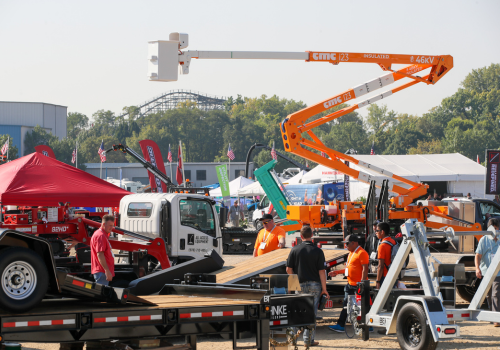 With that in mind, Posi-Plus, in conjunction with its partners Con Edison and Lion Electric, have developed a an all-electric utility bucket truck capable of performing the full range of work for which utility bucket trucks are used.
The Class 8 truck will feature a Lion8 all-electric chassis and aerial equipment drive. On a single charge, it's capable of a full day's work and of traveling an estimated 130 miles. It takes two Level 2 chargers eight hours to charge the unit's batteries.
Elliott also recently introduced an electronic model with a 500 kV configuration—the E150i telescopic material handling aerial. The unit is designed for live line transmission work, but can be multifunctional. The E150i features 60 degrees of over-the-center articulation and a patent-pending design allows users to interchange booms, while protecting the insulated boom when not in use.
Dur-A-Lift is introducing a hybrid technology that can be added to most models. The machine will be able to be operated in the same manner regardless of power input. If electric power becomes almost depleted during operation, the truck automatically turns on the truck's engine and operates on conventional PTO power. When this happens, the batteries begin to recharge. Once the batteries reach sufficient charge, the engine shuts off, and the unit again uses electric power. A single charge can offer up to four hours of runtime and the hybrid battery can recharge while driving between job sites.
Dur-A-Lift, Elliott Equipment Company, Versalift, Altec, Bronto Skylift, and more will be exhibiting at The Utility Expo 2023, the largest show in it's history. With more than 1.4 million square feet of the industry's top manufacturers, The Utility Expo 2023 is not to be missed. Learn more about the upcoming show and register here. 
Read Next
Unveiling the Future: Alternative Power Trends at The Utility Expo
Four Steps to Better MEWP Preventative Maintenance