Exhibitor Hotel & Travel Information
We look forward to seeing you in Louisville! With a convenient airport and world-class hotels and entertainment, Louisville offers a great experience for visitors to the show. For the best selection of flights and hotel rooms, remember to make travel plans as early as possible.
Flight Discounts
Airline discounts are available to exhibitors and attendees on flights to The Utility Expo. These discount codes only apply to the dates listed.
Delta Airlines Delta Airlines is offering up to a 10% discount on flights (September 16 – October 8, 2023).
Book your flights at www.delta.com/meetings, select 'Book Your Meeting Reservation' and use Meeting Code NM2NU or call Delta Meeting Network® at 800-328-1111 Monday – Friday, 7 a.m. – 5:30 p.m. CT. Refer to Meeting Code NM2NU.
Southwest Airlines: Southwest is offering 5% off Business Select® and Anytime fares and 5% off Wanna Get Away® fares, plus 50% bonus Rapid Rewards points (September 20 – October 3, 2023).
Visit www.swabiz.com/flight and use Company ID: 99184621. Booking dates: May 1 – October 3, 2023; Travel dates: September 21 – October 3, 2023.
United Airlines: United Airlines is offering up to a 10% discount on flights (September 23 – October 1, 2023).
Search flights at www.united.com/meetingtravel and enter ZMCA744477 in the Offer Code box or call United Meetings Reservations at 800-426-1122 Monday – Friday, 7 a.m. – 9 p.m. CST and Saturday – Sunday 7 a.m. – 5 p.m. CST.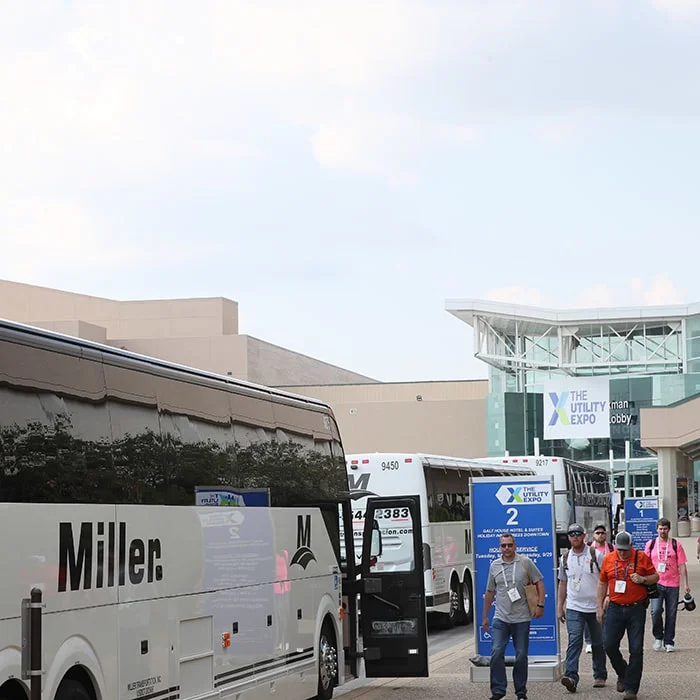 Free Shuttle Service to Select Hotels
Securing your rooms through the official The Utility Expo 2023 hotel block gives you access to the Shows' free shuttle service, helping you save valuable time and money on travel. Shuttle service is available between the Kentucky Exhibition Center and select official The Utility Expo 2023 hotels. Shuttles will operate during official show days, September 26-September 28, 2023.
Please Note: Not all hotels in the official show block are on the shuttle route.
View Shuttle Schedule
Kentucky Exposition Center Parking
Parking is available at the Kentucky Exposition Center in designated lots on a first come first served basis. Parking is $10 per day. 
Attendees can enter at any of the gates and the parking attendant will direct them to the lot that is available on a first come first serve basis.
Top Attractions
HORSE RACING AT CHURCHILL DOWNS
Experience the exciting and colorful spectacle of Thoroughbred racing at legendary Churchill Downs. Stroll through its historic grounds and enjoy the ambiance of one of the most hallowed shrines in American Sports. Check out the Churchill Downs racing schedule and plan your visit to the Kentucky Derby Museum.
BOURBON EXPERIENCES
Did you know 95% of the world's bourbon is produced in Kentucky? Take a trip down Kentucky's Bourbon Trail® or immerse yourself in Louisville's Urban Bourbon Experience™, featuring ten distillery experiences, one-of-a-kind exhibits, and a city-wide cocktail and culinary trail.
LOUISVILLE'S FOOD REPUTATION
Louisville has more than 2,500 restaurants, numerous award-winning chefs, and even the Urban Bourbon Trail - earning it the title of "Culinary Capital of Bourbon Country." Taste Louisville's culinary scene for yourself.
Deadlines and Hotel Policies
Make sure to read through the hotel program policies and mark any important deadline dates to avoid the release of rooms and/or charges.
Beware of Unofficial Housing Offers
Maritz Global Events is the official housing provider for The Utility Expo 2023 and the only company that is able to sell rooms within The Utility Expo 2023 official hotel blocks.
Please be aware some third-party travel companies may attempt to solicit housing for The Utility Expo 2023. These companies are not authorized by Show Management and may provide false information regarding the availability of rooms at hotels within the show housing program.
If you are contacted by a travel company other than Maritz, please immediately notify Show Management at ceaseanddesist@aem.org. Show Management works to prevent the unauthorized solicitation of The Utility Expo 2023 exhibitors and attendees.
AEM is actively engaged in support efforts to stop business impersonation fraud, click to learn more.
Questions?
Maritz Global Events is the official housing provider for The Utility Expo 2023. For questions, please contact Maritz customer service department:
International & Domestic: (+1) 864-342-6396 (Monday-Friday, 8:00 a.m. - 4 p.m. CST)
Email: TheUtilityExpo-EXH@maritz.com